Tweet
Six men ride into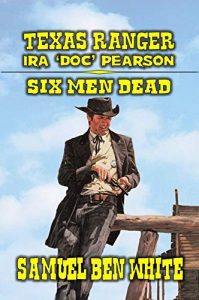 the little town of Rook, in the Texas panhandle, and stop in front of the bank. Six men known to be members of the vicious Lawrence gang. Moments later, all six lie dead in the street, the air filled with the smell of gunpowder and their blood oozing from multiple gunshot wounds apiece to mingle in the dirt.
Into town a few days later rides Texas Ranger Ira 'Doc' Pearson. No one in the government or the rangers denies that the Lawrence Gang got what they deserved, but two things grab Ira's attention and he cannot let them go: were the outlaws told to drop their guns and refused or were they just murdered by an entire town? And who was that sixth man? for the sixth man who usually rode with the Lawrences was in jail down Lubbock way when all this happened.
Official Texas is satisfied that justice was done, but Ira can't let it go. Amidst his other duties, and over more than a year's time, as he takes on other assignments for the Rangers (a missing girl, a couple cases of rustling, a bank robbery in Big Spring), Ira continues to try and discover who that sixth man was who died in the streets of Rook. Was he an outlaw who had joined the Lawrences on purpose, a saddle-bum they had enticed with tales of riches, or just the unluckiest grubline rider to ever head into town with new acquaintances?
Available now on Kindle for 99 cents!