Order it today for Kindle, paperback or hardback!
(Published Aug 13, 2022)
5225 A.D.
…
It has been three millennia since the last of the great wars.
Two thousand years since mankind emerged from the little pockets they had fled to, trying to avoid the poisons.
Ancient tribes, politics and allegiances are all forgotten. Science? Religion? Philosophy? Engineering? Gone. Forgotten. Without a trace.
…
In the aftermath of the murder of her family, Noiné emerges from the ashes of her home, clinging to an ancient and mostly-forgotten faith and determined to make things better for herself, the child she hopes to have, and the sister who may yet live.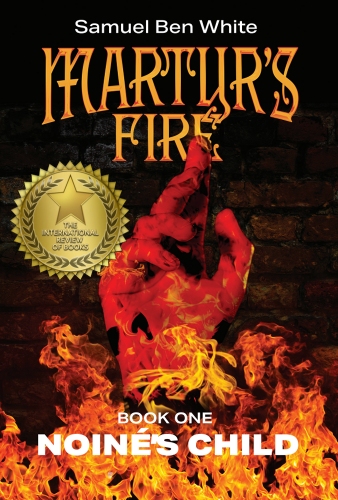 Sample Reading
Noiné was seventeen when the raiders came.
She had been out in the fields, in a little depression that made her invisible from the house. On such days it was hot—not just warm, but hot—yet she still liked to go there when her chores were done for it was the closest thing to solitude she could find in her life. No parents or grandparents and, especially, no siblings. Just far enough away that she could barely hear the normal goings-on of the farm, but close enough that she could hear should someone call out.
She liked a little time alone now and then. She wasn't quite so enamored of solitude as her nearest sister, but she did like to take a few moments now and then to just revel in silence. A person from the city might have said she lived always in silence, but Noiné didn't think so. There were always the noises of a farm: the clink of metal, the stomp of hooved feet, the turning of the windmill. Add in the noises of her youngest siblings, who never stopped talking! and it became overwhelming at times. She would move off to where she could hear if called, but have a little peace. Sometimes she prayed, sometimes she sang little ditties and hymns to herself, and sometimes she just sat and barely thought about anything.
Therefore she heard the scream.
Noiné popped her head up cautiously, thinking her mother had perhaps seen a mountain lion and not wanting to draw attention to herself from the cat as she was so exposed. What Noiné saw was a handful of men on horseback, attacking the farm. One of them was riding away with Noiné's mother across the saddlebow in front of him. She thought she saw her father—or maybe her father's father—lying facedown in the yard. She saw her grandfather—her mother's father—try to charge the raider carrying off her mother and receive the lead from some sort of percussion weapon full in the chest for his troubles. He slumped to the ground and moved no more as Noiné watched.
Noiné was too scared to make a sound. She lay facedown on the prairie grass, feeling its warmth against her skin, and wept as silently as she could. When she could get her hearing back, she lay still, listening for sounds from the farm. There were still hoofbeats and footfalls, though no more screams. And then she heard the crackle of flames and each pop was like seeing her grandfather shot again. Her heart heaved in her chest and she was afraid she would make a sound that might be heard. It seemed to her as if her heartbeats could be heard!
Would that be so bad? she asked herself. Wouldn't I rather die with my family than survive alone? A voice inside her head told her she was a young woman, thought pretty by some, and the men who would carry off her mother would do the same to her and worse. She clutched at handfuls of the prairie grass as she thought of her mother. She prayed her mother could escape.
Or die quickly.
Her wits returned in conjunction with the setting of the sun. She left her little depression and made her way to a nearby draw, hunched down and, hopefully, unseen. Once in the draw, she made her way towards town. It was all of six miles and likely seven, but she was sure she could make it—even if it turned dark before she could get there.
The dress she wore was a light brown, simple thing, which would help her blend in with the surroundings as the sun sat. Her long brown hair she had twisted into a single braid down the center of her back, as was the custom for a woman of her age among her people. She fingered it lightly as she set out, the feel bringing her both comfort and sadness for her mother had braided it for her. For the last time? she wondered.
She had only gone a few steps when she turned back. She crept back to where she had been hiding and peeked over the roll in the fields. There was no movement around her house, and her house itself was just a smoldering ruin. In the fading light she could see the lump in the dirt where her grandfather had fallen. She saw another, similar lump near the ruins of the barn and had to cover her mouth to keep herself from making an anguished sound aloud. She felt the sound in her throat and chest, though.
Noiné topped the small roll and made her way to the remains of the house. When she was close, she whispered the names of her siblings but heard nothing in response. Where were they? In the house? Had they been taken by the bandits to be sold as slaves or something even worse? She stepped over toward the barn and saw that the lump was her grandmother, and near the barn her other grandfather. She wanted to fall down into the dirt and lay there with them until she died, but her legs continued to walk as if by their own volition.
She found no sign of her father. She guessed him to be wherever the children were, for he would have protected them to his last breath. How would he have done so? He was not a fighting man. Strong, resolute, and a harder worker than any two other men, he would have fought back with his hands if he could. He might have retreated to the corn crib, which was close to the house but had solidly built walls. She had a vision of him trapped in the house with the little ones and suddenly it became clear: if that were how he died, while the house burned and crashed around him, he would have been holding her siblings close and saying prayers over them and telling them the stories of their family's faith that he knew so well.
She made herself stop and say one of the prayers he had taught her and her siblings. It gave her a little strength, and then she began to walk. Five miles to town? she asked herself. More like seven, she thought. And she had never made the journey in the dark—she had made it rarely enough in the light. But she was convinced she could find the town. Would she find help? Her family had never been shunned in town, but neither had they been regulars, coming in only twice a year: once to buy seed and once to bring in the harvest. Even doctoring, they did themselves.
They were not without friends, though. There was the family named Trook to the east, but that was in the wrong direction. And what if the raiders had hit them, too, for the one who rode off with Noiné's mother was heading that direction.
There were other farming families they were either friendly or acquainted with, but were mostly in the wrong direction as well. The ones that weren't, were off the path if she were to make straight for town. Oh well, she thought, maybe I'll at least see one of them if I somehow get off the track.
An hour later, she was sure she was still on the right track but was wishing she had brought some water. She thought she recognized some of the landmarks even in the wan light of a fading moon, and thought old lady Deen's farm might be nearby—and she had a good well, one of the best around—but Noiné was afraid that if she got off the track she might not find it again. And she had seen no lights on the horizon to indicate a campfire or even a lantern, so the path seemed her best bet.
She had cried much that first hour, but then it slowly faded and she just became an automaton, putting one foot in front of the other, thinking of nothing except staying on the path—which she imagined looked rather silvery in the moonlight. At least, she prayed what she was seeing was the path. She wasn't sure what anyone she came to could do, but she just kept telling herself she had to make it. When her mind began to get numb with the exhaustion and darkness, she kept herself alert by reciting the prayers her parents had taught her. She even smiled as she realized that she was subconsciously saying the prayers to the cadence of her footsteps and, if she wanted to increase or decrease the speed of one she had but to increase or decrease the speed of the other.
She did. Her shoes—which hadn't been much to start with—were torn and her feet were bleeding when she finally came to the outskirts of the little village the locals called Forest (though the forest it was named after was little more than a few old, gnarled, wind-blasted stumps anymore). She had fallen once—she wasn't sure why—making her clothes dirty and the palms of her hands wet with blood and sweat. She had a tear near the knee of her skirt from the fall but she told herself to be thankful for that because it let a little cool air in on what was a surprisingly warm night.
She had run almost mindlessly at first, then settled to a walk when her lungs and side commanded her to, not knowing what sort of help she might find in town for her family only had the minimum amount of contact with the people there. Noiné knew why that was, but also knew to not talk about it, even within her family. Still, she hoped there would be someone there who would be willing to help, for weren't the raiders a problem to all?
As she approached the town, she wasn't sure where to go, but then she saw a slew of horses tied up before one building and decided with what was left of her mind to go there. Some men were standing around on the porch before the building—which she thought might be a public house of some sort—and one of them made a half-hearted effort to stop her as she burst through the crowd and into the building.
Inside, before her eyes even adjusted, she called out, "I need help! The raiders have attacked my family."
Someone nearby put a hand on her arm and said something like, "You need to get out—"
But then a voice spoke from the middle of the room and all other sound disappeared. "What is the problem, young lady?" a voice of command asked. She looked and as her eyes adjusted to the dim light and the dark paneling inside, she saw a tall man standing up and coming toward her. As he stepped into the light she saw that he was a man of regal bearing, taller than most and with a strong face. He reached out to her with large hands, which she took nervously and found them calloused.
She said, the words flowing quickly, "I live just northeast of town, about seven miles. Raiders attacked our farm. I saw one of them carrying off my mother. I saw my grandfathers laying on the ground, dead. I—I ran."
The man came closer, then commanded someone to his left, "Get this young woman a drink, and food if she can take it." He helped her to a chair and asked her in kind tones, "Now tell me exactly what you saw and how we may get to your place."
Noiné took a sip of the proffered drink, then related all she had seen—little as it was—and directions on how to get to her family's farm. The man listened intently, then turned to another man who stood nearby, a man with the darkest skin Noiné had ever seen, and said, "Yarfan, I want the men mounted up and ready to ride now."
"Understood, my lord," Yarfan, the dark and very thin man who nevertheless looked to be made of long muscles, said. He turned smartly on his heels and followed his men, who were already heading outside.
The man who was clearly the leader took one of Noiné's hands in his own and said, "Rest assured: we will find who did this."
"May I—may I ask who you are?" she managed to reply in timid voice.
He smiled, a very nice and warm smile, and told her, "I'm the king" with a good-natured chuckle. Then, standing to his full height, he turned to a stout woman nearby who was apparently the keeper of the inn and said, "Take good care of this young lady. Provide for her needs. I will be back and will settle up for her expenses as well as our own."
"Yes, my lord," the innkeeper said, nodding obsequiously.